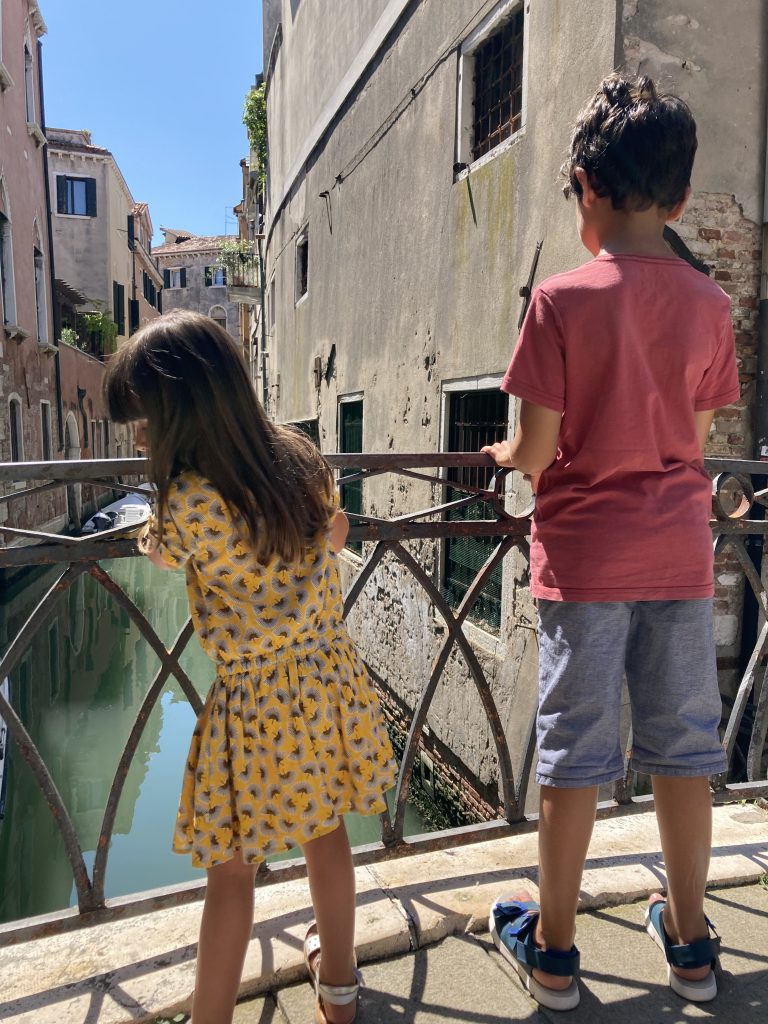 29 Ago

What to do in Venice with kids – one day itinerary

Wandering what to do in Venice with kids? In this blog post I'm going to show you the itinerary I chose with my kids.

I organized this route considering my children's needs (8 and 4 y.0.), but I can assure you it is also perfect for adults (maybe adding some more stops in the typical Venetian taverns – also called "bacari" – to have a glass of prosecco or spritz!)

We were visiting my family just outside Venice this summer, and we had a day trip to discover this unique island, that I love so much. From the railway station to St. Mark Square, we enjoyed it all!

The itinerary I'm going to show you covers three of the six districts of Venice (called "sestieri"): Cannareggio. S. Polo and S. Marco. 

A day in Venice with kids – First stop: Strada Nova
When you exit the railway station, you will be astonished by the charming view in front of your eyes.
The first bridge you will see just in front you is Scalzi bridge, one of the four bridges on Gran Canal (along with Rialto, Accademia and Costituzione bridges).
I really love the area of the city on the opposite side of Gran Canal, but I have to admit that it's quite challenging to cross it, especially for young kids. So I decided not to cross it and to take Strada Nuova. It's longer and wider than all the other Venetian streets (called "calli") and your kids will love walking (and running and jumping!) along.
Along Strada Nuova, on your right you'll find a pier named "St. Sofia". From here you can cross the Gran Canal on a typical gondola spending just 2 euros! The so called "gongola ferry" is very common among local people, and it's that kind of experience you have to try (it can be a bit scary if you are not used to, but pretend to be relaxed and smile)!

A day in Venice with kids – second stop: Rialto bridge
When you finally get your feet back on the ground again, you'll be exactly at the well-known Rialto Fish Market. It's an iconic venue and it's a funny experience for kids to have a look around! The Fish Market is open from Tuesday to Saturday from 7.30 am to 1.30 pm. Close to it, there's the fruit and vegetable market, super colorful and characteristic. It's an historical market and it gave the name to the nearby area called "Erbaria". Here you'll find many "bacari" (as I said before, that's the Venetian word to call the typical taverns) where you can have a drink or eat the famous "cicchetti" (a "cicchetto" is a slice of bread with a wide range of ingredients on the top, like cheese, chopped tomatoes, sardines and so on. It usually comes with a glass of wine).
At this point, you are at the foot of the charming Rialto bridge: take your time to admire it and to enjoy the view of Gran Canal from the top of the bridge.
Once you cross Rialto Bridge, I really suggest you the historical rotisserie Gislon, in Calle de la Bisa. Here you can try the best "mozzarella in carrozza" in town ("mozzarella in carrozza" consists in two slices of mozzarella, crusted in bread crumbs and fried. Try it both with and without the anchovy in the middle and tell me what's your favourite!). You can also find many other typical Venetian dishes, of course!

A day in Venice with kids – third stop: St. Mark's Square
From Rialto you can easily reach St. Mark's Square by following the directions. It will take you about 15 minutes walking.
At this point of the day, the weather was very hot so I decided to head directly to Giardini Reali, a dreamy garden where you can relax and chill with your kids.
It's good to know that before entering the Giardini Reali, you'll find some kiosks selling ice-creams and snack…you can promise a reward to lazy and tired kids who don't want to walk anymore (I did it, and it worked!).
When we were ready to walk again, we visited the amazing St. Mark's Square, with its Basilica, the Bell Tower and Ponte dei sospiri (literally "bridge of sights"). I would have loved to take the elevator which brings up to the bell tower to enjoy the view of the city from the above, but it was too hot to keep the line before entering!

Venice with kids – forth stop: going back by water bus!
Whether you're based in or outside Venice, here comes the fun part of the day: going back by water bus!
As I mentioned above, for us this was a day trip by train, so we had to go back to the railway station.
Water bus lines heading to the railway station are line 1 and line 2. You can take them from St. Mark's Square, Rialto Bridge or other stops along Gran Canal. You can find more info on the ACTV website.
Actually, since I really love walking around Venice, I decided not to take the water bus in St. Mark's Square, but to walk to Rialto Bridge, with a pit stop at the Disney Store. Anyway, if you want to fully enjoy the water bus experience, boarding at St. Mark's Square is the best choice. You will cross the island sailing along Gran Canal, surrounding by all kind of magnificence. It will take you about 40 minutes to the railway station, and both you and your kids will have fun!
I'm not gonna hide, that price is the bad part of taking a water bus. An ordinary one-off ticket is 7.5 euros. Children under 6 travel for free, but from the age of 6 tickets are full price. 
Anyway, my kids really loved the experience: personally, I did it many times when I used to study and live in Venice, but admiring the city from its main Canal is always a breathtaking experience!
Hope you find this blog post useful, let me know if you are looking for more info about Venice – with or without kids. And don't forget to follow me on Instagram for more Italian gems!
You may like: Trionfale Market in Rome and Best beaches near Rome.